Recipe: Smoked Chicken & Pasta Terrine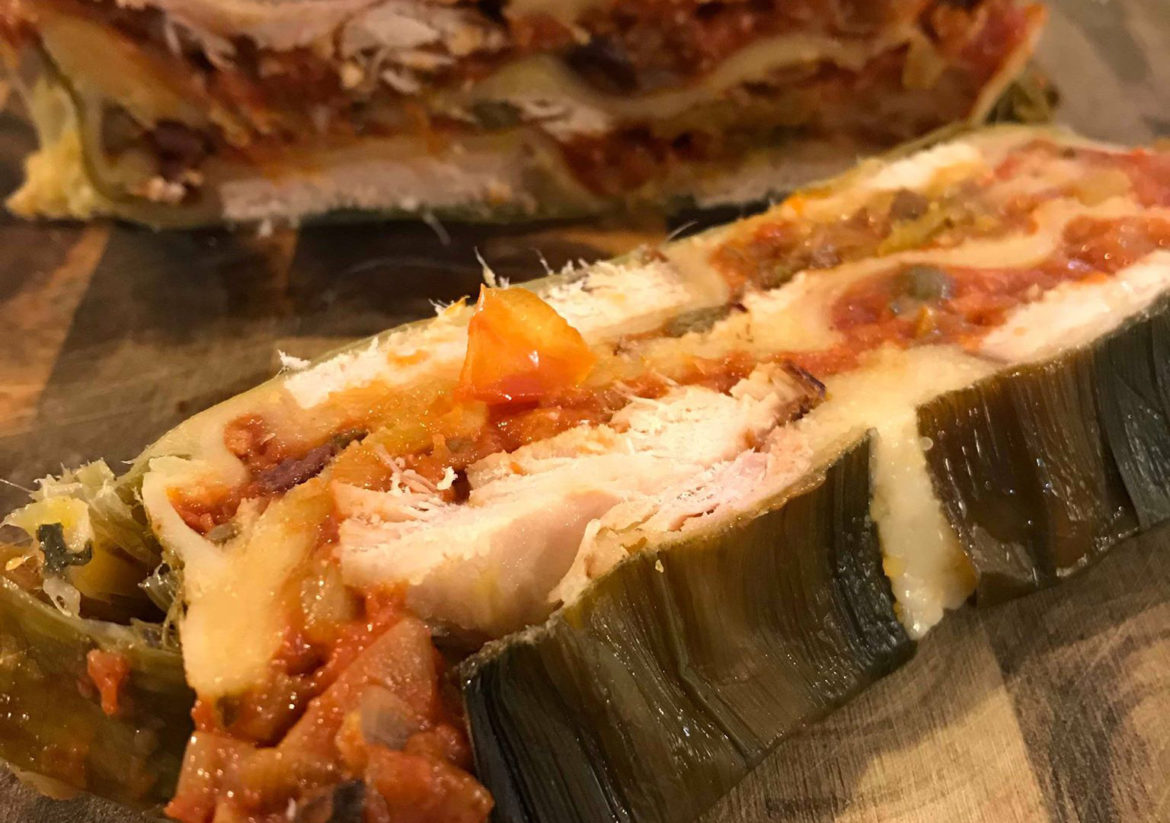 Ingredients:
1 Leek
3 fresh lasagne sheets
¼ cup olive oil
1 clove garlic crushed
3 tablespoons of tomato paste
1 teaspoon sugar
80g mushrooms sliced
2 large tomatoes seeds removed, then chopped
½ cup sliced black olives
1 tablespoon fresh green oregano chopped
¼ cup plain flour
¼ cup water
1 ½ cups (150g) grated mozzarella cheese
350g smoked chicken breast sliced (CC's house smoke of course)
Basil Dressing
1 ½ cup of olive oil
1/3 cup lemon juice
1 1/12 TSP shredded fresh basil
1 small red capsicum chopped
Method:
Lightly grease 11cm x 25 cm ovenproof glass loaf dish.  Wash leek drop 6 outer leaves into boiling water, boil for 3 mins, drain and cool.
Thinly slice remaining leek.
Heat oil in pan, add sliced leek and garlic, cook until leek is soft.  Add paste, sugar, mushrooms, tomatoes, olives, capers and oregano.  Cook, covered for 5 mins, stirring occasionally.  Stir in blended flour & water, stir until mixture boils and thickens, cover, cool.
Line base & sides of prepared dish with boiled leek leaves, allowing ends to hang over the sides of the dish.
Combine cheese & chicken, divide into 4 equal portions.  Sprinkle 1 portion of cheese mixture over the base of the dish.  Trim lasagne sheet to fit dish and place on top of cheese mix.  Spread 1/3 of tomato mixture, top with another potion of cheese mixture.  Repeat layering, ending with cheese mixture.  Fold leek leaves over to cover cheese mixture, cover dish with greased foil.  Bake in moderate (180deg) oven for about 1 ½ hours or until firm to touch, cool, refrigerate overnight.
Basil dressing.  Combine all ingredients in a jar and shake well.
Just before serving turn out terrine and serve sliced with dressing.  Terrine can be made 2 days ahead.  Dressing can be made 1 day ahead.