Spare Ribs with Beer & BBQ Sauce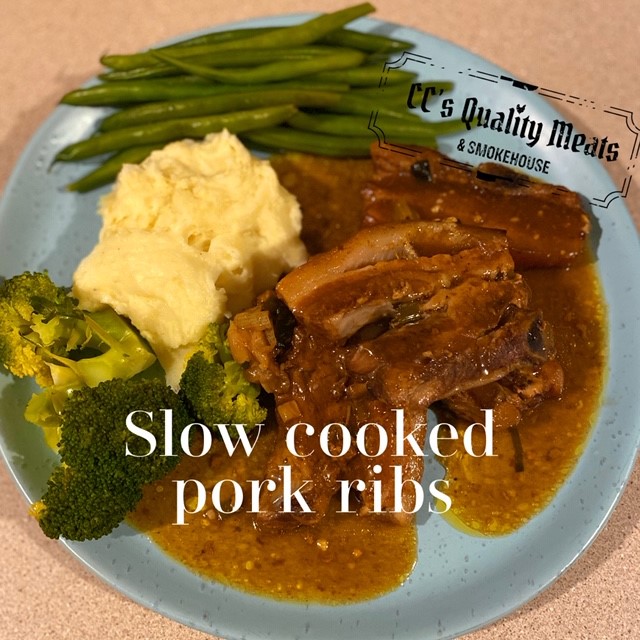 Ingredients:
1.5 kg Pork Ribs
165ml Beer
3/4 cups BBQ Sauce
2 TBSP Sweet Chilli Sauce
1 TBSP Worcestershire sauce
1 TBSP honey
2 spring onions, thinly sliced
2 garlic gloves, crushed
1 small handful of coriander for garnish
Method:
Cut Ribs into individual ribs or into sets of 2 or 3. Trim excess fat.
In large bowl, combine the beer, BBQ sauce, sweet chilli, Worcestershire sauce, honey, spring onions, and garlic. Season with salt and pepper. Add the ribs and thoroughly coat in the sauce.
Transfer the ribs, and the marinade to the slow cooker. Cook on high for 4-5 hours. After 4 hours, check to see if the ribs are tender but the meat should not be falling of the bone. If necessary, continue to cook for another hour.
Using tongs, remove ribs to a side plate and cover to keep warm. Mix the cornflour with 1 TBSP water and stir into the sauce in slow cooker. Cook on high heat for 5-10 mins stirring or until the sauce has thickened.
Serve the ribs piled onto plates and spoon over some of the sauce. Sprinkle with coriander leaves. Supply with plenty of paper napkins for sticky fingers.