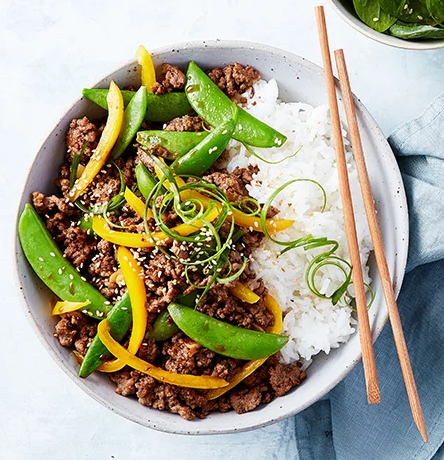 INGREDIENTS SERVES 4
500g beef mince
1 tbsp vegetable oil
2 garlic cloves, thinly sliced
2 tsp finely grated ginger
¼ cup (60ml) Teriyaki Marinade
200g sugarsnap peas
1 large yellow capsicum, cut into strips
Jasmin rice, to serve (or any white short grain)
Sliced green onions & 2 tbs sesame seeds, to garnish
80g baby spinach, to serve
METHOD
Heat oil in a pan, add garlic & ginger, cook for 20secs. Add the beef mince and cook, breaking it up with the back of a wooden spoon, for 5 minutes until browned.
Reduce heat and add teriyaki marinade. Add the sugarsnap, capsicum and stir to mix evenly. Simmer, uncovered, for 2-3 minutes.
Serve on rice garnished with green onions, sesame seeds and a side of baby spinach leaves.
TIPS
Can be served with Japanese noodles
Can be put into lettuce cups as a finger food or entrée
Can be put into a Healthy bowl dish, add coleslaw, kewpie mayonnaise and shredded nori sheets.