Recipe: Turmeric Yoghurt Lamb Leg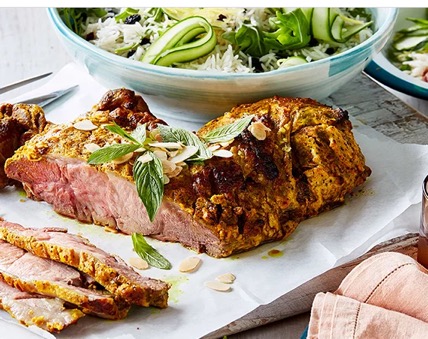 Ingredients:
1.2kg butterflied lamb leg, fat scored diagonally
2 cloves garlic
1 cup Greek yoghurt
1 tbsp ground turmeric
Juice and zest of 2 lemons
2 x 250g packets microwave basmati rice
80g baby rocket leaves
2 Lebanese cucumbers peeled into ribbons
¼ cup currants
1 tbsp olive oil
Mint leaves toasted flaked
Warm Roti Bread. To serve
Method:
Combine garlic, yoghurt, turmeric and half the lemon juice and zest in a large snap-lock bag. Season, add lamb and coat in marinade. Refrigerate for 1-2 hours then bring to room temperature.
Pre-heat oven to 210°C (190°C fan-forced). Place the lamb into a foil-lined roasting tin and cook for 15 mins. Reduce heat to 180°C (160°C fan-forced) and cook for a further 15-20 minutes for medium-rare. Cover loosely with foil halfway through cooking or once the marinade is lightly charred and the meat looks golden. Set lamb aside to rest for 15 minutes before slicing.
Prepare rice according to packet instructions. Set aside in a large bowl to cool slightly. Add rocket, cucumber and currants, drizzle with oil and remaining lemon juice and zest. Season and toss to combine.
Serve sliced lamb with rice salad, mint, flaked almonds and roti bread, if desired.
TIPS
You could also use a leg of lamb on the bone for this recipe – just increase the cooking time. Lamb rump or mini roasts would also be delicious.
Make a healthy salad, wrap or sandwich with any leftover lamb.
Use your choice of microwave rice in the salad – e.g. jasmine, brown or coconut rice.
Tasty recipe from www.australianlamb.com.au